ABOUT US
Introduction
Welcome to the TOKYO Kung Fu School!
Enjoy practicing Kung Fu in Shibuya and Shinagawa in Tokyo, Japan.

My name is Mitsuhiko Sato, and I teach traditional Kung Fu at this school. To introduce myself briefly, I have been studying Kung Fu for more than 15 years. While attending university in the U.S., I started studying traditional Kung Fu under two Kung Fu masters, Sifu Brian Snapp and Sifu Matt Pavlovich. They taught me the Southern martial arts of Hung Ga (Hung Family Fist) and Chow Ga (Chow Family Southern Praying Mantis Fist). After graduation, I continued to study Southern style Kung Fu with Sifu Paul Roberts in Hong Kong and Japan.

In Japan, unlike other countries, Southern Kung Fu schools are very rare while Northern Kung Fu schools are much more popular.Through teaching and giving demonstrations, I have been devoting all of my efforts to promoting Southern style Kung Fu in Japan.

At the TOKYO Kung Fu School, our students represent a wide range of age groups, from kids to adults, who have some or no previous Kung Fu training at all. Beginners are very welcome and can start learning from the beginning of the Kung Fu curriculum at any time. In each class, all students start by practicing the basic drills together to increase their fundamental skills.

Please join us in practicing and enjoying Kung Fu in a safe, friendly and international atmosphere.
info@tokyokungfu.com

Sifu Mitsuhiko Sato
TOKYO Kung Fu School
Tokyo Representative, Japan Hung Sing School of Choy Lei Fut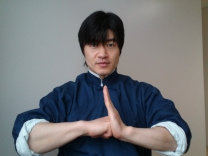 What we practice
We mainly practice Southern martial arts, such as Choy Lei Fut 蔡李佛. In Choy Lei Fut, there are three main lineages: Hung Sing鴻勝舘, Buck Sing北勝舘 and Hung Sing洪聖舘Choy Lei Fut. What we follow is Hung Sing Choy Lei Fut鴻勝舘蔡李佛. We also practice Northern style techniques, such as various kicks and jumping kicks.

In each class, we mainly focus on the basic techniques of each style, as they are an integral part of traditional Kung Fu training. We also practice Kung Fu forms, such as hand forms and weapon forms using the staff, spear, broadsword, fan, flute and umbrella.
Why train with us
At the TOKYO Kung Fu School, we also practice combat techniques to gain a deeper understanding of Kung Fu forms. Although we have two-person combat practice, we do not concentrate on aggressive fighting training. To follow the way or ideas of traditional martial arts, strengthening a person both physically and mentally is more important than just fighting. Politeness and respectfulness toward others and society, which are derived from these strengths, are nurtured by proper training.
Annual schedule


TOPICS

STYLES OF KUNG FU
Choy Lei Fut 蔡李佛
Choy Lei Fut originated from the Choy style, Lei style and Buddhist Palm.
Although this style is recognized as one of the Southern martial arts, it also contains the essence of the Northern style. Its forms are mainly characterized by long-range strikes and large movements made by stretching the entire body. Each movement is soft like a force of motion streaming without stopping. There are straight and swing attacks, similar to circular movements, from various directions. This style is also popular in Hong Kong Kung Fu movies. Bruce Lee once remarked that 'Choy Lei Fut is the most effective system' for fighting multiple attackers.
Demonstration
History of Choy Lei Fut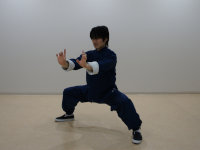 Hung Ga 洪家拳
Another Kung Fu style we practice is Hung Ga, which is well-known for its five animal forms -- the tiger, crane, dragon, snake and leopard. This style was also made popular by Wong Fei Fon 黄飛鴻, a historical martial arts hero in China.
Demonstration1
Demonstration2
History of Hung Ga
Chen-style Tai Chi 陳式太極拳 We also practice Tai Chi for health and as a martial art. The style of Tai Chi we practice is Chen Style Tai Chi. There are various kicks, martial arts usage, and fast movements called 'fa jing' 発勁 or power issue within the slow streaming movement, which differentiates Chen Style from other styles of Tai Chi.












Drunken Fist 酔拳
The Drunken Fist form exists in almost every style of Kung Fu. This way of fighting is unique in its movements, with walking and swaying like that of a drunkard. The hand is shaped as if holding a cup and strikes are made with this hand form. There are also forms that require keeping your balance on one leg, and rolling on the ground immediately right after kicking. There are various names for the Drunken Fist, such as Small Eight Drunken Immortals Fist小酔八仙拳 and Drunken Luo Han Fist 酔羅漢拳.
Demonstration
Ying Zhao Fan Zi Men鷹爪翻子門
Commonly known as Eagle Claw, Ying Zhao Fan Zi Men in its pure traditional form no longer exists, and only one Eagle Claw family remains. Eagle Claw is one of the Northern styles. Its forms are characterized by submission techniques using hands shaped like eagle claws and also various jumping kicks.
Demonstration

TESTIMONIALS
The voice of students

At the age of 50, I believed that I was too old to start Kung Fu, I was wrong. With Sato Sensei's guidance, he has made my learning experience fun and safe. I don't know why I didn't start earlier, but am happy that I have. The hardest part of learning Kung Fu aren't the physical demands (that's up to each individual), but the body and mind coordination--that's why Kung Fu for me is fun and necessary.

As I get older I need to focus more on the coordination and mental aspects of the sport to stay healthy. Choy Lei Fut has hundreds of years of tradition, and Sato Sensei is a very special person passing on his knowledge, and I am proud to know I am part of its heritage.

CONTACT US
Trial lessons and private lessons are available upon request.
Please direct any inquiries to:

Sifu Mitsuhiko Sato
TOKYO Kung Fu School
Tokyo Representative, Japan Hung Sing School of Choy Lei Fut

Location of Classes

Shibuya Ward, Shinagawa Ward, Yokohama & Yokosuka